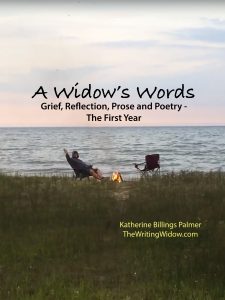 My latest book is now available on Amazon.com. A Widow's Words: Grief, Reflection, Prose, and Poetry – The First Year is a compilation of my essays (blogs) and poems from the year following my husband's death.
It's available in print and e-book versions.
Book description:
How did I end up publishing my most personal thoughts in a book for the world to see? What made me decide to allow total strangers to peek into my heart and glimpse the raw pain and grief that overcame me following my husband's death?
When I began this grief journal, it was out of a survival instinct. I had always attempted to use journaling to sort through my thoughts in an attempt to gain insights into my feelings, to elicit and capture whatever furtive thoughts lurked deep within my mind. For most of my adult life, writing through painful emotional events soothed me. Composing poetry helped me extract and experience all the pain my logical brain kept me from feeling. After my husband's death, writing was all I had.
I met Rick Palmer when I was nearing forty. After a few years of unsuccessful relationships, I was the single mother of one son, and I had given up on ever finding "the one." However, Rick and I knew from the first meeting that it was meant to be, and we enjoyed twenty-one wonderful years together. Rick was diagnosed with small cell lung cancer in October 2016. By our 20th wedding anniversary the next July, he was in remission, but was suffering from several side effects of the chemo and radiation therapy he had undergone. He died unexpectedly on August 13, 2017, three days after falling and breaking his hip.
Rick and I owned a web design company, and a blog was the natural receptacle for my journal of feelings, thoughts, and memories. It was also the perfect way to honor the man I loved beyond life and a place to dedicate my thoughts, love, poetry, and prose to Rick. However, the blog was private, only shared with my closest friends and family members. After a few months, I began to share a few of my posts and some of my poetry with other widows in the Hope for Widows Foundation private Facebook group. Group members often responded to my writing by telling me that I put into words what they could not express. I was invited to become a guest blogger for the Hope for Widows website. At that point, I made the decision to "go public." I chose a pen name, the Writing Widow, and publicized my website on Facebook, Instagram, and Twitter.
Since opening my blog to others, I have been immensely rewarded with comments and thank yous from many other widows, and those who have lost other loved ones, as well. Some suggested publishing my poetry, which I did in, I Wanted to Grow Old With You: A Widow's First Year of Grief in Poetry. This book, A Widow's Grief, is a compilation of my blog posts from the year following Rick's death, including the poetry from my earlier book.
Grief is universal. No two widows grieve in the same way, but, hopefully, my musings will comfort others as they navigate the perilous and emotional journey of widowhood on their own.