I don't often write much here about my dating experiences or my new relationships. For one reason, this is a blog about widowhood and grief, and not about virtual dating or how to navigate the dating world. For another reason, no one would believe some of the stories I could tell. It's been interesting, to say the least. 
But the more I think about it, the more I realize that navigating this new dating world cannot be separated from my experience of being a widow, and that many other widows may relate. Part of being a widow means surviving the grief, creating a new life and future from the ashes, and going on to date again. The fact that we're widowed (and not single by choice) affects every facet of dating. We know what it is to be loved. We understand how a good relationship should work. We may be newcomers to dating after decades of marriage, but we know how a good man behaves and how we should be treated.
I started dating two years ago (two years after Rick's death). I dated for about nine months before the pandemic put a temporary halt to that, but I continued meeting men online and chatted steadily with a few of them. Many of us singles still kept a lookout for potential mates and kept in contact as we waited for the isolation to end and for life to get back to normal. In the previous months – between when I began dating and when the pandemic hit – I had a dozen first dates that didn't pan out. The red flags waved so high and so vibrantly within the first hour of each date, that there was no need for a second one. But, nevertheless, I persisted.
Once many of us were vaccinated, I finally went on a first date with one of the men I had been messaging with online a year earlier. The chemistry was instantaneous. Having not experienced this on any of my other dates, I was a little overwhelmed and very hopeful. He told me he was "smitten with me," and my love life perked up considerably. 
He is a great guy: a romantic, caring, sensitive, attentive man. He is unbelievably romantic – reminding me often how our lips fit perfectly together and how kissing me is like a "Turner classic movie." He made me laugh, he made me feel safe, and I found all the love and romance that I have been missing since Rick died. I never believed  I'd have a chance at love again, but here he was in the flesh!
I started looking forward to Friday nights again. I know it's not the same for all widows, but for many of us, we don't look forward to weekends like we used to. Getting off work on a Friday and joining Rick on the backyard deck was the highlight of my week. Hanging out on Saturday and Sunday afternoons, milling about, driving around, or cuddling on a rainy day in our bed, was a little slice of paradise. I didn't just miss Rick, himself; I missed being with a romantic partner… a lot.
Now, suddenly, I was looking forward to each weekend, again, when this new man and I would be able to spend time together. For the first time since Rick's death, I was holding hands with a man as we walked to the car. I was sitting next to him in restaurants, nestled under his arm, while we drank margaritas and ate Mexican food on Friday nights. On Sunday afternoons, I was snuggling on the love seat under the gazebo with him, just listening to the birds and chatting about life. And I soon discovered that I was capable of loving again.
We dated for 10 weeks, then it suddenly ended. I haven't seen him in more than two months. 10 weeks of dating, 10 weeks of being alone. In the midst of our budding romance, we had to take a break. He had some responsibilities to attend to at home. His ex-wife had medical issues and his adult children guilted him into stepping in to help. He moved her into his house and said he needed to put a hold on our dating life. He had things to organize, and then he'd be back to resume our courtship.  
I think he had a lot of guilt that he had divorced her in the first place, and that may have played into it. But I was dating a man who had been divorced for several years and didn't foresee this at all. This sudden loss of my new love was quite unexpected and heartbreaking.
For 10 weeks, I have waited for him to return. For 10 weeks, all I have received are text messages that tell me how much he misses kissing me, how much he misses our Friday nights together, that things are coming along on his end, and that he'll be back soon.
Today, I was reading a really fantastic book by a talented writer: Tiny Beautiful Things: Advice on Love and Life from Dear Sugar, by Cheryl Strayed. It's a compilation of her best columns as "Dear Sugar," published in book format. A lot of the questions from the readers hit home with me. But when I finished reading one question and her corresponding advice, seemingly out of nowhere, I burst into tears.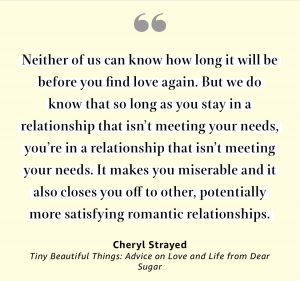 This advice finally awakened me from this fantasy I've been clinging to for 10 weeks. If this man loved me as much as he claimed, the relationship wouldn't be on hold. He wouldn't be with his ex-wife; he'd be with me. Helping her and dating me aren't mutually exclusive. And if he can't handle both, do I want him anyway?
Rick and I didn't have a perfect marriage, but I had no doubt I was number one in his life. He had other responsibilities: children, a mom who needed his help, constant traveling for work, and for the first four years we were together, he lived in another state! But I never doubted that he loved me. Ever. He made time for me despite his other duties. So I know how a man in love behaves. 
I'm done waiting. I've already waited long enough to love again. I experienced two years of grief that numbed me to the possibility of feeling anything for another man. Then I lived another year during a pandemic alone in the home I used to share with my husband. Besides my short interlude with this man, I've gone nearly four years without romance, no cuddling, handholding, or kissing – and four years is a long time. 
After reading this chapter of Strayed's book, I realized that my latest "romance" was a huge false start. This isn't the same as simply going out on a first date and seeing some red flags. This is a whole set of mixed messages that I've received for more than two months. Life is short, and I'm tired of wasting my time.
How has my being a widow impacted this experience? I never thought I'd find love again. I was so smitten by this man, so stunned by the fact that I felt something again and that he claimed to care for me in return, that I was afraid to let go, even when things changed.  As Strayed says, staying in a relationship that doesn't meet your needs, "closes you off to other potentially more satisfying relationships." 
I mistakenly believed this was my only chance at love again, so I've held on, despite all the signs that it's time to move on. 
But today I am letting go. Today, I'm moving on alone, knowing that there is the possibility that this was my last chance at romance, and the awful possibility that I will be alone the rest of my life. Then again, there's a possibility that I won't be. And if I continue to hang onto this confusing and disappointing relationship out of fear of being alone, I'll never have a chance to find the true love I've been longing for… and the man that I deserve.