The Golden Years
I never thought I'd be alone
In the golden years…
This stage of life we longed for
Retired from the nine to five drudge
Free to do anything we wanted.
When we looked towards the future,
we saw beaches and travel
More of this!
We said, when we took that three-week trip to Europe
Some day, we'll have more of this.
Now "some day" is here,
But you're not.
When we're retired…
We'll wander the country
Driving blue highways,
discovering more sights
We'll be gypsies together in an SUV
Or in a caravan on the English moors
A happy old couple living out our golden years
Watching sunsets on the gulf
Fantasies and plans
Hopes and dreams
Now here I sit, alone by the fire
Recounting those dreams
And our days together
But as I reflect upon
the love we shared
And all the adventures we packed into
The two decades we had
I think those golden years
Aren't something we missed out on
Perhaps the golden years
Were the ones I spent with you
Visit the Hope for Widows website.
**************************************************************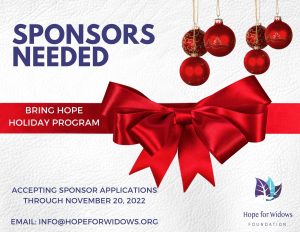 Looking for a way you can make a difference and give back this holiday season? Embrace the spirit of giving by participating in Hope for Widows Foundation's third annual 'Bring Hope' virtual program that directly assists a widow's family who cannot provide gifts for their children or other necessities during this holiday season. Some widows who are struggling to make ends meet during this time simply do not have the luxury of purchasing gifts when their finances require them to choose between keeping the lights on and food on the table or purchasing presents. Add in the factors of solo parenting, grief, and the emotional and physical toll it takes. If you would like more details on how you can support a widow and her family, please EMAIL US directly for questions at info@hopeforwidows.org or to sponsor, go here for details and to fill out the application: https://linktr.ee/hopeforwidows