This is the time of year we'd be going on our annual Florida trip. Usually we left around Valentine's Day. We took three days to get there. We enjoyed the drive.
Friends often laughed at how long our drive took. "Three days? Why I drove the 17 hours straight through – it was an overnight trip!" But we didn't care what others thought. We liked to take our time, stopping at scenic overlooks, shopping at local outlets, exploring new sites. I suppose one of our odder habits was stopping whenever we came across any place that sold statuary, looking for something unique that appealed to us, that we obviously didn't need. But for some reason, we both liked looking at big lawn ornaments. So wandering through fields of concrete statues became a part of our many side trips and stops. Just because.
On one trip – the one where we drove to New Orleans, Texas, Oklahoma, and back, we found a four-foot high aluminum rhino that we both loved in Iowa – why? Who knows? But we bought it and had to remove all the luggage from the back of the SUV to make it fit. Somehow, we lodged everything back in around and under and above the rhino so we could bring it home with us. I remember my dad was staying with us then. When we returned home, he came out to help us unload the car. When the hatch went up and he saw the rhino, he all but fell on the ground he laughed so hard. We painted our rhino black and he's still out on the deck, waiting for the next generation of children to ride on his back.
And, of course, we never missed stopping for local cuisine…Cincinnati chili in Ohio or Kentucky, Jack in the Box tacos in any state that still had the franchise, Memphis BBQ, shrimp and fish near the coast. Rick just loved finding grocery stores that we don't have in Michigan and discovering pop or chips or some other foodstuffs in a brand he'd never heard of.
Our trip to Florida was our adventure. Our evenings at cheap motels always celebrated with a bottle of Cabernet out on the motel porch. We carted around our own chairs – and little folding tables for times when we wanted to work on our laptops. We were web designers, after all.
Oh, how Rick loved that – the fact that he had created a successful business that allowed him to work on client sites anywhere. He had exactly this reason in mind when he decided to start the company back in 2002, long before we planned to retire. He said it was perfect. We both enjoyed web design and we'd build up a business that we could still work on in our 60s, and how great it would be to have something we loved to do and that we could do anywhere as we traveled the world. Rick pulled out his MacBook in all sorts of places – parks, diners, and scenic overlooks. And back in the day when it wasn't always easy to access WIFI at our cheap motels, he even worked in parking lots adjacent to more expensive hotels, piggybacking on their free WiFi for quick site updates. Those were the days.
Our travels were a tremendous joy to both of us. It's who we were. We fancied ourselves vagabonds, nomads, roaming around in our SUV, traveling to all parts of the U.S. On our trip to Europe a few years back, we came across a caravan on the moors in Cornwall, and he said, "Let's do that! Let's come back and travel the moors of England in a caravan! What a life!"
But, we never did. We never had the chance.
So many trips. Twenty-one years of travels. But every year, just about this time, we headed off for the Florida gulf.
The year he died, the Florida trip was the high spot, the goal that helped him make it through the chemo and radiation. I look at photos now, and I see how awful he looked, how gray. The treatments had taken their toll, but he was ecstatic at how the timing of the treatments would coincide with our annual trip. But then it got complicated. Each week leading up to the trip was fraught with tension. The treatments kept being postponed due to medical complications and the final treatment date kept slowly moving forward, about to eclipse our plans. No, we thought, don't let us miss this trip! Rick needs it. The doctors even agreed that Rick needed Florida almost as much as the blood transfusions and Neupogen injections – the Florida trip was such a highlight to look forward to, something to bring him back to life after all the suffering and worrying and sickness.
But, finally the day arrived. We promised to come back for more treatments, but this was our break. This was literally the trip of a lifetime.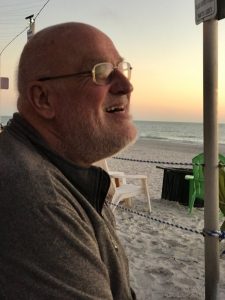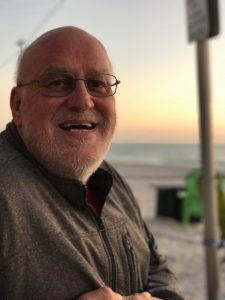 Florida. Sunshine and beaches and relaxation. Dining outdoors. Holding hands while we watched gorgeous russet red sunsets. Closing our eyes and listening to the surf crash to the shore. Being together. Being alive. Being in love.
Last year, seven months after he died, the bravest thing I ever did was to make the trip alone. Of course, the drive wasn't as fun by myself in the quiet car. There was no banter, no laughter. I didn't have the motivation to stop at any sites or local diners. I stayed at safer traditional hotels instead of the one-story motels with the outside porches, since I didn't relish the idea of drinking wine alone outside a motel room door.
But, still, I reached my goal. I made the 1200-mile trip to our oasis in the sun. I proved to myself that I could go on. That I am strong. That my life will continue without him.
I also know I wasn't really alone on that trip. I knew Rick was with me, even before the seatbelt alarm went off in the passenger seat. But it was still a lonely, quiet, boring drive. Florida trips in the spring will never be the same.
And now I understand my latest mood swing. As I plan this year's trip, I feel very little excitement about my upcoming vacation. Yes, I still hate winter – with a passion. Yes, I still relish the idea of two weeks of sun and sand. Yes, a break from work will be nice. But, otherwise, the appeal is gone, because so much of the vacation was about who I made the trip with. Rick, the man I called "Mr. Wanderer," made every adventure a unique experience. And now it's hard to get enthused about a trip alone.
So, I toy with the idea of skipping the Florida trip and doing something with more of a purpose – maybe a writer's conference or a genealogy meet up, or a Road Scholar trip or a cruise. Skipping the Florida trip seems somehow blasphemous, but it's just not the same as it used to be.
My counselor advised me early on that I will realize some things that I used to enjoy with Rick won't be enjoyable alone. She said I need to decide which things to keep doing and to relinquish the things that no longer bring me pleasure. It's all part of that annoying, uncomfortable exercise in finding my new normal – discovering new things that I can enjoy by myself, that I find enjoyable doing solo. So here I am, 18 months after his death, still coming to terms with what's what.
To go or not to go? The trip isn't as fun without my travel partner. The old sites we visited together seem boring now. However, I still love sunshine and beaches. I still need a break from the winter doldrums, and I could use an infusion of vitamin D. And, oddly, I've begun to realize that I actually enjoy driving around discovering things on my own and how independent that makes me feel.
So maybe the annual Florida trip will stay in my "to keep" column. Maybe, as the years go on, it will get easier traveling without him. Perhaps I'll discover new places that interest me along the way. I guess, if I don't go, I'll never find out.