I feel like I'm at some weird crossroads in my life: the intersection of clinging to my life with Rick and forging on to my solo life ahead. My head is filled with conflicting thoughts. The pain, the grief has lessened (most days), and I've realized that by living without Rick for nearly ten months, I now feel more like an individual and less like a partner, a wife. And, although I feel some relief that I'm adapting to widowhood, that I'm moving forward, the idea that I no longer feel "as married" depresses me. It's just one more loss I've endured since Rick died.
I know I haven't truly been "a wife" since August 13, 2017. On that day, I became a widow. Yes, I know that, logically. But what's logic have to do with grief?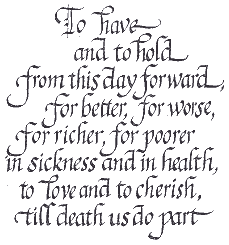 In July 1997, I chose to be Mrs. Richard Palmer. I chose to be his wife for life. And on that day, when I held his hand and stared into his eyes, I pledged to remain his wife for my entire life. As we exchanged our vows, I never considered that my vow would end with his life. I never dreamed that by saying "till death do us part," I put such a fine point on it. When I read somewhere that my "vows were fulfilled upon his death," that phrase made my heart hurt.
So, although it sometimes seems unbelievable, I've accepted the painful fact I'm a widow, not a wife. My counselor says that by writing through my pain, by not avoiding it or trying to ignore it, I've made remarkable progress. She said taking my solo journey back to our Florida vacation spot was a brave effort at closure that helped me realize I can travel and experience life alone. She says I'm adapting well to my new life alone and finding ways to fill the many voids left by Rick's death. While admitting I'll never be able to replace him and his loss, she says I've worked to fill many of the needs he fulfilled in my life socially and intellectually, and found ways to cope with the sheer number of things he did in our marriage that I now need to take care of myself, or hire others to do for me. I've done well adapting to my "new normal."
I guess I've earned an "A" in grieving.
Emotionally, some days I see daylight, but some nights are still awful. Sometimes the storm hits and I am back at day one, back at the hospital desperately hoping that I'll have another twenty years to fulfill those vows. Often times, I resist this forward motion, and sob my way through the memories, angry that life moved so quickly, mourning the fleeting time we enjoyed. I long to be back in my happy married life, back with my larger-than-life Rick. I resist any forward movement. I don't want it to be over.
I want time to stand still, because every second means Rick and our life together moves farther into the past, deeper into my memory. Wrong or not, unhealthy or not, in a way, sometimes I still want Rick to BE my life – more than he was when he was alive.
So I stand at this crossroads, feeling ready to move forward, but resisting change, resisting movement, resisting progress, resisting putting my past behind me, resisting losing any more of my "Rickworld" than I have to. And apparently, that's my next step in grieving process:
To find an enduring connection with the deceased while embarking on a new life.
I know grief can't really be neatly dissected and categorized and described like line items on a bill of goods, but as I delve into the "grief process," I do see some patterns that my own grieving has followed. The steps defined by J. William Worden have seemed to fit my pattern (although I usually take two steps forward, one step back, and I can be at step one again in the blink of an eye).
Worden proposed these four tasks of grief:
Task 1: Accept the reality of the loss.
Task 2: Process your grief and pain.
Task 3: Adjust to the world without your loved one in it.
Task 4: Find a way to maintain a connection to the person who died while embarking on your own life.
So, how neatly does that fit? Task 4 truly describes my crossroads. Diligent student of life — and now grief — that I am, I'll seek out more information and advice on this step. Although I do feel a glimmer of interest in the "embarking on my own life" part of the task, right now, I'm more focused on finding the way to maintain a connection to Rick. As time moves on so quickly, the pain of separation worsens – he's been gone so long! It's nearing ten months since I've seen him and held him and talked to him. How can that be?
It's an awkward position straddling that crossroads: one foot firmly stuck on the road to the past and one foot positioned on the road towards my new solo journey. I will work to find ways to maintain all the beautiful memories, the feeling that he's here with me, his voice in my head, his love in my heart, before I can move both feet forward. I'll strive to find that way to move forward, while I still long so much for the past. I desperately need to maintain my connection to Rick while embarking on my new life without him.