I do my best to fill my weekends. I've had a year and a half to hone my skills. When Rick was alive, I used to look forward to Fridays, the last day of the work week and then – Whee! Freedom! Rick and I could hang out together, starting with breakfast at our favorite diner, then – depending on the season, or the workload – either hang out in our yard doing the upkeep or work indoors on client websites. After the website work or household chores were finished, there would be our decadent nap time…lying in bed chatting and dozing and planning and dreaming.
Then maybe we'd wander around running errands. Maybe we'd have dinner somewhere we enjoyed – especially somewhere outdoors in the nice weather. And we'd always finish our evenings out on the deck toasting our life and our future together.
So for the past year and a half since he died, filling my weekends has seemed a monumental task. But I've done it. I have new patterns and have found ways to occupy my time, sometimes alone and busy around the house, and other times with family and friends.
I've learned to successfully survive the weekends without my partner in crime, but there is always a chance that I'll backslide a little, give into the grief, and just do nothing. Just sit in a chair and remember those wonderful weekends and grieve what I've lost.
Some weekends are a bit of both. I'll start out slow, sad, wistfully dreaming of those full and fun weekends with Rick, but I'll pick myself up, dust myself off and get moving. This weekend was one of those. I was missing him hard on Friday night, and, of course, Valentine's Day is coming up, my second one without him, so I was wondering what I'll do to fill the day. So yesterday morning I woke up wishing, dreaming, longing for him and those days when I looked forward to Saturday morning and the start of our free time. I just told myself to get going on those plans I have for my future: after breakfast and errands, get home and start painting the hallway and cleaning out my office files as I edge my way closer to moving out of this house and into my new life.
I forced my way out of bed, showered, dressed, and went to breakfast at our favorite diner. I got the oil changed in my car, came home and cleaned the kitchen, went to my office and did some website updates, then downloaded Turbotax so I could get started on my taxes. The three boxes of old paperwork and mementos I brought up from the basement were staring at me, so I started sorting and purging. When I move, I've vowed to myself, I'm not going to have to sort and clean out unnecessary items. I'm just moving things I need and want for my future.
In one of the remaining boxes, I found journals from 1993. This was before Rick. So often I've categorized my life into segments like that: before and after Rick. In one entry, I was writing about how thrilled I was that two of my college instructors told me I had writing talent. One wrote on one of my papers, "You do caress the language." The other said my report on Siddhartha was the best he'd ever read in his career. I had noted that my father shyly asked me to read the paper and quietly told me it was wonderful and the best thing I had written, and how I cried afterwards because he rarely complimented me. It wasn't that he didn't love me. I know now that he did, but it just wasn't his style to be effusive with his praise, and his words made me all the more inspired to go on with my newfound love of writing. I wrote about how excited I was to have found something I loved to do and it was interesting reading back to how I was discovering myself and creating new goals, while enjoying my life as a single mother and student – something I'm once again doing as a widow. Ah, the cycles of life!
So, at that point, I was moody and a little pensive, but I went on with the chore. And that's when I found something that I forgot existed. I have absolutely no memory of the certificate Rick had awarded me in December 1997. I found a sheet of paper made up to look like an award that certified that I had "successfully completed five months of marriage to Rick Palmer." It was signed by Richard K. Palmer, 12/6/1997, Garden City, Michigan. Underneath his name was his self-proclaimed title, "Boss of the Applesauce,"  and it had a little seal printed on the lower left that proclaimed it a, "Special Merit Award."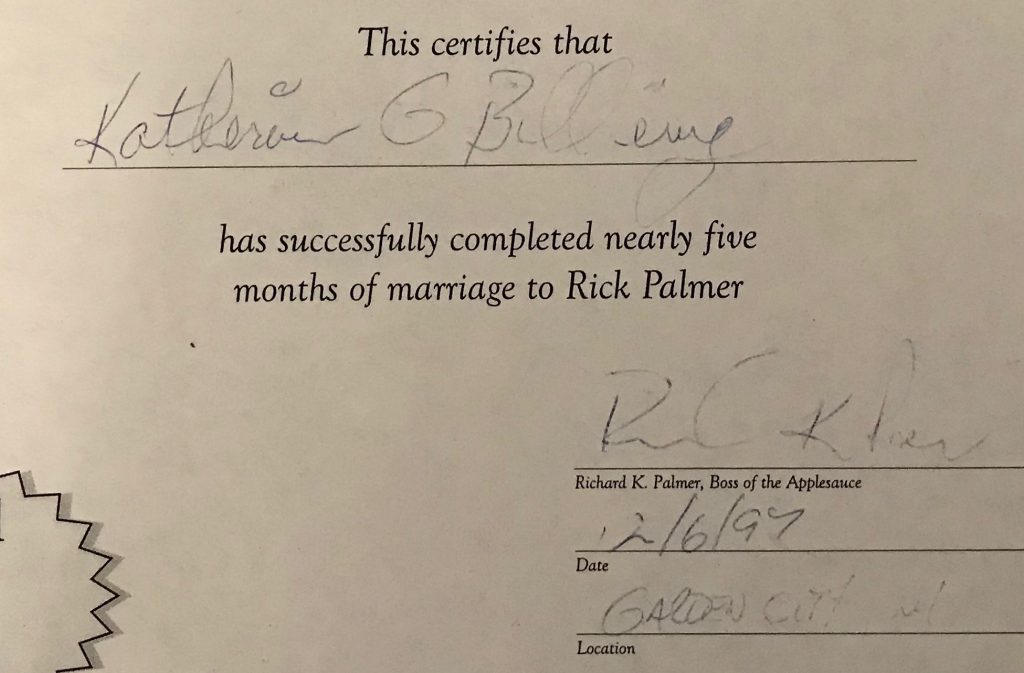 I laughed, then I cried, then I laughed again. That man! I know he was probably testing out some new software or template he had come across, because he loved the new technology of the late '90s. But leave it to him to think of something goofy like this. And, as a woman who waited to marry until I was forty, it was quite an accomplishment to have survived five months as someone's wife. I'm sure he was also implying that he may not have been the easiest man to live with, and we had the added burden of only actually living under the same roof on weekends, because at that point we lived in separate states (thankfully, we had nonrev flight status at NWA, so hopping on a plane each weekend was a piece of cake).
But however apropos this certificate was in terms of the state of our marriage at the time – and my success at making it through five whole months – it brought home what I miss the most about Rick Palmer: his quirky mind, his creativity, and his goofy, clever sense of humor. And as I'd been thinking about another approaching Valentine's Day without him, that old sappy song came to mind and I thought, I miss my funny Valentine.
And I realized that's what I miss the most on these long weekends without him. I miss the laughs, the fun, his zany sense of humor, and the way he had of making life so interesting and enjoyable. I so loved getting to know the workings of his unconventional mind and being on the receiving end of his wit and quirky sense of humor. And I feel lucky to have found one more piece of evidence of Rick's intriguing and inventive sense of humor to cherish, printed out in black and white. I'll place it in the "to keep" pile, but I'll continue to clean and sort and purge so I can work towards the future I'm creating without him.
I often ask myself what Rick would think of where I am today. So much has changed in our home, and now I'm even contemplating moving from the house we shared together. I'm also getting more comfortable with the idea of removing my wedding ring from where he placed it on my finger so many years ago (five months before I was awarded my certificate of achievement in 1997!). And, yes, I'm even toying with the idea of dating again, of finally admitting after a year and a half alone, that I really am no longer married, and that maybe the time has come to fully immerse myself in my future.
Of course all this forward motion sometimes makes me feel like I'm being unfaithful to Rick, that by starting a new life for myself, I'm leaving him and his memory behind. But then, I stop and shake myself. With certainty, I know that he'd be smiling right now. He'd be proud of me. He'd be rooting me on. He'd be telling me it's okay to remember the fun times with him, but that I need to go on and make more good memories on my own.
So I'll keep planning, and I'll keep writing, and I'll keep moving forward to whatever the future holds. And no matter where my new life takes me, I know that I'll never forget all the good times we had, and the love I shared with my funny Valentine.