After more than a year of coming to terms with Rick's death, today I came to realize that grieving is just a long-running battle with the words I tell myself in my head. There's a voice in a continuously running monologue that tells me things that I need to either heed or ignore, words to believe or recognize as a lie.
Yesterday, I gave Rick's blue chair to our grandson. This is the chair that I blogged about a few months ago because it was so significant in our marriage. This is the chair I have a love-hate relationship with. First, I hate it because I think it's ugly. Now some people think it's retro, some people think the color is great, some people love it, but I am definitely not one of those people. When Rick first brought this monstrosity up from his mother's basement after she died, proclaiming that it would go in our living room, he started a years-long battle that continued until his death.
I did NOT want this hideous Early Colonial-era chair with its pleated blue skirt and ginormous matching skirted ottoman in my IKEA-modern-decorated-and-furnished living room! Never! Yet, there it was, because my husband, who was allowed to have half a voice in all our decisions, absolutely loved it. He thought it was the most comfortable chair he had ever sat in, and blue – by the way – was his favorite color.
So, yes, I had a love-hate relationship with that chair, but the love part of the relationship only began after his death. It became "Rick's favorite chair"! My late husband's favorite chair! The man I missed more than anything in life – HIS favorite chair! This chair was not going anywhere – well, it did get moved into his office, where all his favorite things now reside – but I planned to keep this chair for the rest of my life. It was Rick's favorite chair, after all.
And then a few weeks ago, as I continue to attempt to move forward, to find my new normal, to work at closure, to sort through his things – whatever you want to call what I'm doing now at this stage of my life without him… a few weeks ago, I discovered that our grandson Sabastian LOVES his Tall Papa's chair! He told me even slept in it when he, his sister, and his mom house sat for us when we were on vacations.
I had no idea that my 17-year-old grandson liked colonial furniture. Of course, I don't think he even knows that it IS colonial furniture. The important thing is, that when I asked him if he would like to have his Tall Papa's chair, his face lit up! He wants it in his bedroom! And so, the plan that he would clean a spot in his bedroom for this larger-than-life blue chair with its matching ottoman took shape.
Yesterday, the big day arrived. My step-daughter, Cindy, and my two grandchildren came by to get the chair. After it was safely ensconced in the back of their van, I pointed out the giant burgundy standing floor vase that Rick also loved. We had a Christmas exchange game every year, and this was what Rick had contributed one time. Unfortunately – or fortunately in his mind – no one wanted the huge thing and after several swaps, he ended up back with his own gift – to his utter delight. When I took a gamble and asked Cindy if she liked the vase, her face lit up! She loves it! It's now hers.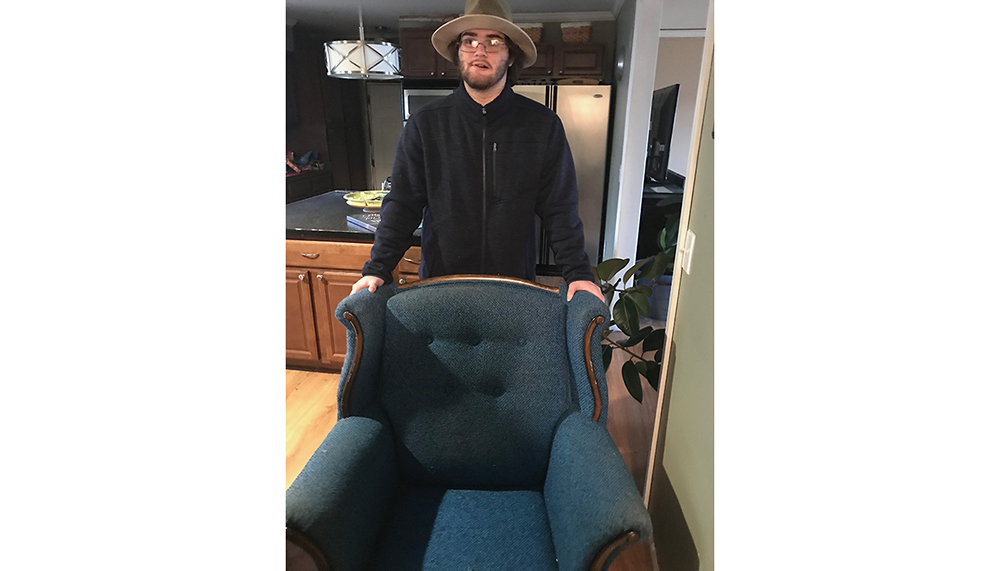 Throwing caution to the wind, I then pointed out the weird paisley print two-foot high OTHER vase (urn?) from Rick's mother's "collection" that Rick kept filled with a variety of unique walking sticks. I realize that this almost makes it sound as if Rick inherited some of his mother's hoarder tendencies, but the chair and the walking sticks were the only part of her "collection" that he really loved and kept in his office. In fact, the walking sticks are pretty cool. One is actually an antique umbrella with a dog's head handle. He used to say he planned to wear a jaunty cap and stroll down the street swinging one of them. I remember him trying to convince my dad to use one instead of his traditional aluminum cane – he even used the "jaunty cap" idea, but my dad just responded with a bemused expression thinking Rick was a bit crazy. Rick was my unique man with unique ideas.
Anyway, these walking sticks (in a paisley vase, don't forget) were among his prized possessions, and I don't need them, at least, not if they would bring someone else that he loved some joy. When I asked Cindy if she'd like them, she was delighted, and then when we showed my granddaughter Taylor, her face even lit up! Take them all I said! I was on a roll now.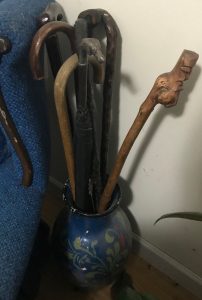 So, in the span of an hour, I cleared out a lot of space in Rick's former office. And I made three people very happy to have their dad's/Tall Papa's favorite things. And it was bittersweet, of course – giving away his things continues to mean he won't be coming back. But, then again, keeping them won't bring him back, will it?
But it was also perfect. I found a place for things that were so important to him, with the people he loved more than anyone in the world. And I made those love ones happy at the same time. Who could ask for more than that?
So when I said my good nights to Rick last night in bed (yes, I do that) – when I had my little one-sided chat with him, because we always had those bedtime chats and old habits are hard to break – I was contented and happy that the day had worked out so well. I told him I knew he was just as happy as I was that I had given the kids his things. I knew he was also smiling after seeing me have a dinner and jigsaw puzzle date with our other granddaughter, Danielle. I went to sleep knowing I had honored his memory well.
So that was yesterday.
This morning, I awoke and walked past his office, took a glance into the half-empty room and thought, What did you do?! What have you done to his office?! It's not his office anymore?! You destroyed it! What did you do?!
I was filled with regret and sadness. His office is not his office anymore. His special place has been ruined and it's all my fault. How could I do this to his memory??
And then came the clincher, the thought that finally made me come to my senses: You should've at least kept one walking stick to remember him by!
WHAT? What the hell is wrong with you? To remember him by? TO REMEMBER HIM BY?
I will NEVER EVER EVER forget this man! There is no risk of that happening! How is one stupid walking stick – or a blue chair – or a large vase – going to make me REMEMBER HIM BETTER?!
Mind tricks. Regrets. Guilt.
These are the types of sinister thoughts that continue to plague me. My step-daughter and grandchildren loved Rick. They are happy to have these things that were special to him – things they think are cool and will enjoy.
So mind – and your stupid guilty thoughts – you can shut the hell up!
I don't know if all widows do this, but I'm betting that I'm not unique in these mind games. I'm up. I'm down. I'm happy. I'm sad. I'm planning my future. I'm mired in the past. And the running monologue in my head reflects all these thoughts and moods.
So, yes, this morning when I woke up, I went from wanting to hang onto everything he's ever owned or touched "in honor of his memory" to he's not coming back and you can't keep it all. And finally, to middle ground:
Yes, the man I love is dead, but, yes, I am still here and he – above all people – would want me to live the life I have to the fullest. He would not want me closeted in a room clinging to his possessions, sitting in his blue chair in his office, crying over his photos.
I'm alive. He's not. He's not coming back. And any attempt to keep all his "stuff" is not going to make that happen.
And then I pictured Cindy and the kids and those happy faces yesterday, and I knew I had done the right thing. Some day soon, I will decide exactly what to do with Rick's office. Guest room? Game room? I'm not sure, but he doesn't need that office anymore, so I will make it into something that pleases me, because I'm still here.
So, yes, this morning, I once again was forced to tell my guilt-ridden thoughts to take a hike. There is no perfect way to honor the man I loved. There is no right or wrong, so stop with the guilt. Stop with the mind games.
After more than a year of coming to terms with Rick's death, I may still have that long-running battle with the words I tell myself in my head, but if I focus on what really matters, maybe I'll win the war.