Since Rick died, every time I look at the ugly blue chair, it elicits a different emotion: regret at the arguments we had about it, sadness that he's gone, and a longing to see him sitting in it again. The blue chair was a significant piece of our history – good and bad.
Rick first mentioned the chair a few years before his mother died. He told me there was an old blue chair down her basement that he really liked and that she said he could have. He said that she had collected quite a bit of stuff and that the basement was a mess, so it would be difficult to get to the chair, but that he wanted to retrieve it some day.
I'd never been allowed in the basement of my mother-in-law's house. Upon her death, I discovered why. She was a bit more than a "collector"; the basement was filled floor to ceiling with antiques, furniture, old clothes, fabrics, and plain old garage sale junk. The light bulbs that no longer worked couldn't be reached from the narrow aisle that allowed access to the laundry room, so the dark, cavernous basement held a variety of mysteries, mounds and mounds of artifacts.
Rick and I were tasked with cleaning out the house. Including repairs, this took us two and a half years. Imagine my surprise as we unearthed furniture from underneath the piles – a pool table, two couches, and several chairs, including the blue chair Rick had expressed a fondness for.
What Rick hadn't mentioned was that the chair was hideous! It was a very large, not-so-attractive bright blue monstrosity from another era. My hipster daughter-in-law thinks it's cool, but didn't take me up on my offer to donate it to her, so how cool is it really?
Yes, it's blue – a very bright blue Colonial-style chair, with wooden embellishments and a pleated skirt. And let's not forget that it comes with a larger-than-life matching ottoman (with the same pleated skirt). When Rick uncovered his prized new possession, my mouth must have been gaping. He took a seat, stretched out, propped up his legs on the ottoman, and grinned. He had at last uncovered the chair, and was thrilled about it.
To say I didn't share in his enthusiasm was an understatement.
This was to go in our basement, right? No, Rick wanted it in the living room. It was the most comfortable chair he had ever sat in. He wanted to enjoy it.
Rick was an extra large man. He was 6'5" of (mostly) solid muscle. His weight ranged from 280 to 350 at various times in our 21 years together. A doctor once told him that he had the largest spine he'd ever seen in a patient. His shoulders could fill a doorway. I guess that for a man so large to find a truly comfortable chair that fit him was an important facet in his life. I get that. I was happy for him – but the living room? The room populated with modern Ikea furnishings? The room done in shades of brown, with the geometric patterned area rug, and modern art pieces? This chair just did not fit the decor!
So we argued, and argued, and argued. I pointed out that we had mutually agreed upon every piece of furniture we'd ever purchased in our marriage, and I did not agree with this one. Rick was adamant that he loved the chair, his comfort was important, and decor be damned.
The chair was moved into our living room. Our "mom and pop" setup was a furniture grouping that consisted of his blue chair, an end table, and my classic brown leather club chair. It looked ridiculous.
And so we continued to argue about the chair – every once in awhile – for years.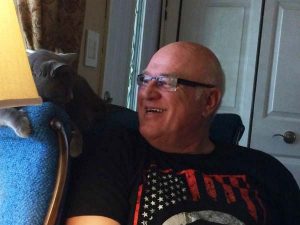 Rick and I both worked from home – he on our web business, me on the business, plus one day each week for my day job, so we each had our own office. One day, he decided to rearrange his, and he carved out a place in the corner for the chair and ottoman. I'm not sure why, but I wasn't going to question his decision. He moved the chair in, added a reading lamp and a large urn filled with walking sticks (another of his prized possessions found in the basement). He soon could be found many a day sitting in the chair, with his feet up, reading a book, or playing on his Chromebook. He was happy as a clam, and so was I. The war was over.
When Rick was in what I now know were the last few months of his life, he was weak from being weaned off steroids too quickly and it was a great effort for him to rise from any chair. I purchased a cheap, old electric lift chair from CraigsList as an emergency solution. It was ugly – even uglier than the blue chair – but it functioned and at that point, the decor meant nothing to me. I needed to make Rick comfortable and find a way to help him to rise to a standing position so he could work his way to his walker.
The old lift chair was in the living room from July 4th until Rick's death August 13th. In the first week after his death, although still in a fog, I wanted the chair gone, not for any reasons of aesthetics, but because I wanted to remove all traces of Rick's illness: the drugs, the vomit pans, the walker, the shots, the Ensure… everything that reminded me of the cancer, the side effects, and the "sick Rick." I wanted to remember the real Rick, the strong, enthusiastic man I loved, and not have constant reminders of the sorrow and pain I endured watching his life fade away.
So, the lift chair was dispatched to the garage, and guess what this crazy widow wanted in its place? The blue chair. I wanted the blue chair Rick loved so much to be in the living room beside me. It made no sense. But it did. And my niece and nephew humored me and moved the chair and ottoman back into the living room. And it gave me one small bit of peace. One small sense of connection with Rick.
It's eight months later, and about a month ago, I rearranged the living room. Suddenly one night, I couldn't stand sitting across the end table from the empty chair. I never know what wild notion will take hold of me anymore, but at that moment, I just couldn't sit there watching TV with the very noticeable empty chair beside me. I guess at different stages of grief, I'll want different things.
So, at midnight, I dragged the chair back to his office. I rearranged the couch to another wall, and the living room is different than it ever was when he was alive.
I go to Rick's office a few nights a week to use his/our computer, and every once in awhile, when I want to feel close to him, I sit in the blue chair and read a book. I have to admit, it's very comfortable.
I have guests coming for an overnight visit next weekend. Yesterday, I thought perhaps it's time to start changing his office into a guest room. The first step would be to move the blue chair to the basement. I decided that I can't bring myself to get rid of it, but it doesn't have to be in his office. I started to remove the feet so it would be easier to move, and then, suddenly, I just couldn't do it. I experienced that feeling I sometimes get, that painful twinge in the pit of my stomach at the thought of parting with something of his. That sickening dread that sometimes comes over me when I realized he's moving farther back into my past.
And that's when I realized that I can't even move the chair out of his office. I love that chair! I love the memory of Rick so comfortably stretched out in it, sometimes even under a blanket. I can see him relaxed, his massively large feet propped up, content in his special place, reading his book – his very favorite thing to do.
I don't know what will happen in the future, how my mind will evolve as I move on, but, for now, the blue chair stays put in the corner where Rick sat, and I'll figure out another arrangement for my guests.
How can I possibly even consider getting rid of the bright blue skirted Colonial eyesore? It's my favorite chair.