I've always considered myself a logical person. I love puzzling out things, playing detective. Rick teased me about my supposed sleuthing skills all the time and affectionately called me Kinsey Millhone (the great fictional detective in the Sue Grafton novels). I like logic so much, I even took two logic classes in college. But if there's one thing I keep learning and relearning since Rick died, it's that grief and logic are incompatible.
My logical mind tells me that grieving for a year is sufficient. I've had plenty of time to "get used to it," to find my "new normal." I've been through all the seasons without him, survived anniversaries and holidays. I've gained closure. I've also come home to an empty house for more than 365 days, so I shouldn't expect him to be here when I open the door anymore.
I've experienced revisiting most of our regular haunts: diners, home improvement stores, parks, movie theaters, and vacation spots. I've taken care of everything he was responsible for in our relationship in some way or another, either by asking for help from my friends and loved ones, or taking on projects myself. I've taken over his part of the business. I've been forced to cut the client list in half, but I continue to update and maintain the 25 or so that remain. I've even learned to do the monthly newsletter for a major client that seemed so overwhelming when I first attempted it more than a year ago.
So, not much left to experience, right? I've handled most all the changes, reorganized my life, coped with the newness of being a single person again. Logically, I've completed an entire year of adaptation. I should reasonably be able to finalize whatever is left to take care of. So, what's left to do?
I asked myself that question last Friday. It was four days after the first anniversary of Rick's death, and I was attempting to think logically about how to proceed with my life now that I'm beginning the next year without him. I'm a list maker – always attempting to stay organized and get a handle on things by getting them on paper. So, I wrote a list of all the things that I still need to accomplish to finally finish putting Rick's affairs in order. I decided to take care of all the final tasks that have been nagging at me for this entire year, the things I knew I should do, but that I wasn't ready to handle. Since my logical mind tells me that I'm stronger now, and more able to handle things that may have brought me to tears earlier in my grieving period, I thought it was high time that I put these tasks behind me.
1. Return Rick's car and get a new lease in my name
2. Cancel Rick's New York Times digital subscription
3. Cancel Rick's Audible subscription
4. Return Rick's phone and end his Sprint service
Okay, whew, that's it! Everything else has been taken care of. These are the final tasks I've been putting off. The two subscriptions add up to about $35 a month each, and that will save me a bit each year. The car is due to be returned in September, so I have a little time, but I'm ready to face it, and start car hunting, even though it hurts to part with the last car he drove.
It was dumb to put off resolving these issues, but these were the final four "Rick" items that meant so much to him. They were who he was, in a way. He loved driving around in that car. I always called him the Happy Wanderer. Rick never came across a road he didn't want to explore, whether by car or bicycle. Wandering WAS Rick and this was the last car he selected and drove before he became too weak and sick to get behind the wheel. And while he was wandering – if he was alone – he was listening to books on tape via the Audible account.
Rick was an avid reader – both in print and audiobook. He read and listened to dozens and dozens of books a year. Our love of books and writing were the two major attractions we first had for each other. Books and words, reading and writing, that was a huge bond between us. We both read and discussed books constantly, played word games with each other daily on our phones, discussed the best way to phrase words as we composed things for work, clients, and pleasure. I even recall discussing faulty parallelisms in bullet lists and the merits of the Oxford comma on our second date – weren't we two peas in a pod?
As to the NYT – Rick read his digital version every morning from cover to cover. It was important to him to keep up with current events, and he was really politically and socially aware. Before we got the subscription online, we even had to drive to various Starbucks on out of town vacations to try to find the paper each day. Accessing the digital version was one of Rick's happy hobbies.
And so, the idea ending his NYT and Audible subscriptions was difficult to process, but without him here, they are both a wasted expense. I only do the NYT crosswords and read a few articles. It's not worth paying for this when I can get a much cheaper "puzzles only" subscription. And, yes, I do listen to books in my car, but I don't drive nearly as much as he did. Okay, time to face it and be LOGICAL and practical, time to cross these items off my list.
The next day, I decided to force myself to get started. It was a Saturday, and – after returning home from a trivia event – I began emptying out our car in preparation for returning it by the end of the month. Even emptying the car took a bit more emotional effort than I had anticipated, because the glove compartment and middle console section still held all Rick's "stuff" – and very little of mine. Because he was the one who spent all the time in the car, he had quite a stash of items. Baby steps: I just put it all in a bag and brought it into the house for later. At least at this stage, I know my limits and stop when I begin to feel sad or overwhelmed – whether the reason is logical or not.
Well, that was some progress, anyway. Since it was less than I had hoped, I toyed with the idea of cancelling the phone and getting it over with, but thought, Naw, I'll do it tomorrow. Baby steps.
Sunday, I had a lot of work to do around the house, and some web client updates, as well, but the phone cancellation nagged at me. Just do it, I kept telling myself. Well, maybe first I'll look at the phone again, just to be sure that there's nothing on there I'll need in the future. Since this is approximately the 1000th time I've looked, I obviously found nothing. What is it with this phone? The idea of parting with it is one of the most difficult things I've done, but it's crazy to keep paying this Sprint charge every month! It's a totally wasted – and expensive – service.
Last year, I found a program that I purchased so I could download and save all Rick's text messages. (I plan to write a future blog about it to help other widows find comfort in keeping their husband's text messages.) I now have an 800-plus page pdf of our messages going back to 2011!! It's a chronology of our day to day life, and I often read it and cry. Rick's personality comes through in every text. Me: Can you pick up some chicken? Rick: Sure thing, jelly bean. Memories of our simple happy life are evidenced in every conversation.
But the bottom line is, I've captured it all. I can let go of the phone. I have our history, our life, our discussions, all in this pdf (and the copies I made – just in case). Let the damn phone go!! Why is this so difficult? This is extremely illogical.
In another age, this would have been such a non issue. A phone? Can you imagine hanging on to your grandpa's Bell telephone, the one with the rotary dial and long cord that hung on the wall in the kitchen? Of course not! But that was then. Now this phone was a part of Rick: the apps he put on were tailor made to his likes. He read his digital books and news updates while he went about the day, standing in line, or waiting for me in the car. He played Words With Friends with me every day – even when we were sitting next to each other and could have pulled out the Boggle game. He also Googled things constantly.
He would laugh when I pondered something out loud, like I wonder how many miles it is to Florida? I wonder when the first Buick was on the market? What was the name of that book series about the temples being built we read a couple years ago? "If only we had a way to find this out digitally in an instant," he'd say sardonically, then pick up his phone, hit the Google microphone and ask the question into the phone's mic.
All day, every day, Rick played with his phone for some reason or another. And when he was sick and hospitalized, it was something to distract him from the needles and IVs, the wires and monitors. It was his favorite way to pass the time: reading, playing games, researching fun facts. The last picture I took of him, before he was sedated, two days before he died, is Rick with an oxygen mask looking down at his phone. It's difficult to part with this very personal, large part of the man I loved. So, once again, I went to bed that night without checking the phone cancellation off my list.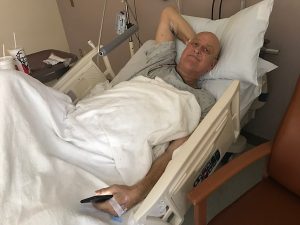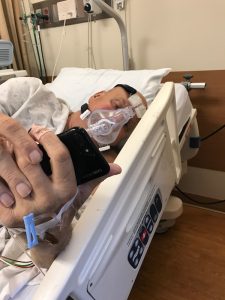 Monday, I decided to force myself to do at least one thing on the list. I canceled the NYT. Okay, done! I felt stronger – as silly as it seems over something so insignificant.
Tuesday, I purchased five audio books with the leftover credits and began to cancel the account. Audible gave the option to pause payment for three months. I clicked okay. Why? I don't know. It just pushed off the inevitable for three more months, but at least I saved some money. Two down and two to go! To make up for my cowardly act, I decided to man-up and clean out the bag of stuff I had removed from the car's console, Rick's console.
I was okay sorting the pens and miniature tools, and even the mints. And then, I picked up an old receipt. It was dated April 14, 2017. The location was the Winn Dixie in Madeira Beach, Florida. Two bottles of Gnarly Head zinfandel at 7:11pm.
ZAP. Just like that, I was transported back to that night in Florida with Rick, just after visiting the beach, holding hands, watching the sunset. Now we were buying wine to take back to the condo. Looking forward to another relaxing evening sitting outside in our matching folding chairs, chatting about everything and nothing. Hanging out with my man.
Just like that, one little receipt made me start to sob with grief, sadness, and hopelessness. I want to go back! Please, please, let me live it all over again! We were so happy then. It was just about a week before it all began to crumble, before reality set in and we were forced to return to Michigan, to sickness, and hospitals, and death.
One by one, I pulled out the rest of the receipts. Gas in Lake City, FL on 4/9 – the excitement of driving down to Florida after he completed his brain radiation treatments. All the chemo and radiation was finished and he was officially in remission. We had such hope! We were going to our favorite spot to enjoy life together – life that had taken on new meaning for us.
The rest of the receipts were from the three weeks we enjoyed together. Nightly charges for parking at Madeira Beach – oh how we enjoyed those sunsets! KFC on 4/28 – his favorite lunch. And, finally, WaWa on the drive back home to Michigan on 4/30. Rick had begun having pain in his chest and said he wanted to go home and sleep in his own bed. I know he was worried that the cancer had returned and just wanted the comfort of home. So we drove back to Michigan, to reality, and suffered four long months of illness and despair until his death.
As I read over the dates and places on the receipts, I continued to feel that odd sensation of being so very sad that those times were over, yet longing to feel the happiness we shared then, longing to relive those happy times in my head, despite the pain they evoked. Grief causes a strange dichotomy: longing to feel and re-experience all that we shared, yet feeling such pain because it magnifies, once again, what I've lost. Bittersweet memories. Until I felt this grief, I didn't realize how perfect the dictionary definition of bittersweet really is: arousing pleasure tinged with sadness or pain.
I read and reread the receipts, trying to recapture the memories each one triggered. Then I set aside the receipts (and you can be sure they won't be going in the garbage any time soon), and felt another twinge of sadness when I saw the wrinkled Taco Bell bag filled with hot sauce packets – another thing that was so Rick. He put taco sauce on everything – one packet per burger, several packets ripped open and squirted into a bowl for a chicken marinade. He even squirted a packet on his breakfast sandwiches, both the ones he bought at McDonald's and the ones he used to make at home. Taco Bell hot sauce packets will always always remind me of Rick Palmer.
So many memories, so many fragments of my time with Rick scattered throughout my mind, ready to be triggered at any time. Logic says it will get better with time. I've mourned parents, grandparents, aunts, uncles, and friends and I know that the grief is never as raw as the first year. But, then again, this one person is different. This one person was my other half.
So, by the end of the day, I still hadn't cancelled the phone. Grief overcame logic, emotion overcame reason, and my organized plan was thwarted when I succumbed to another of those many unexpected meltdowns. I was so confident that one year should be enough, so sure that logically, I should be distanced enough from his death by now to have the strength to wrap up these supposedly insignificant tasks quickly and move on, but when it comes to grieving, very little is insignificant. When it comes to grief, logic flies out the window.
On the bright side, I successfully made it halfway through my four item list before my progress was halted by some year old receipts and a handful of worn out Taco Bell hot sauce packets. Logically, I should be able to get the rest done by the end of the week. Then again… maybe not.